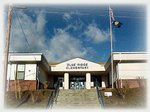 Blue Ridge Elementary School
Blue Ridge Elementary's History
Blue Ridge Elementary School dates to 1893 when the Methodist Episcopal Church, South, opened the Blue Ridge Institute, a three year high school, which remained open until 1899. In 1901, an independent public school was established for the city of Blue Ridge. In the 1930s, the old District School, a two story clapboard building was torn down, and a modern brick structure was erected on the same site. Constructed on the lower level in 1930 was a building which housed ages seven through seventeen. Nine years later a second building on the hill above became the Blue Ridge High School.

In 1954 fire destroyed the lower building that was used as an elementary school. That building consisted of classrooms for the elementary school in addition to a home economics wing and an auditorium for the adjacent high school. After the fire, arrangements were made to hold school in the Blue Ridge United Methodist Church and private residences in downtown Blue Ridge until a new building was completed in 1955.

That same year, the county high schools consolidated to form East Fannin and West Fannin High Schools. Blue Ridge Elementary School then occupied both buildings, upper and lower, to house grades one through eight. This continued until 1976, when grades seven and eight were moved from the elementary school to junior high school. At that time, the kindergarten program was added to the school. In 1989, grade six was moved from Blue Ridge Elementary School to become part of Fannin County Middle School. The grade levels currently attending Blue Ridge Elementary School are kindergarten through grade five. On July 15, 1995, lightning struck the old upper building, and fire destroyed it completely. Fall 1997 was the completion date of the new offices facilities, a counselor's office, media center, and eight additional classrooms.